Advantages of Large Format Tiles: Unleash the Potential of Your Space!
Large format tiles – sounds intriguing, doesn't it? You might not have heard of them yet, but this is a great opportunity to expand your knowledge about interior design and discover the limitless possibilities that these unique tiles offer. If you're looking for something new and exceptional, large format tiles could be your answer. Let's take a closer look at what these tiles are, where you can use them, and what advantages they bring.
Large format tiles, also known as oversized tiles, are wall and floor tiles that go beyond the standard 12×12-inch size. Instead, they offer the ability to cover a significantly larger area. You often come across them in busy supermarkets, luxurious hotel lobbies, or even on the facades of commercial establishments. It's these large format tiles that give these spaces a distinctive character and elegance.
A Range of Styles and Colors
At Euro Tiles Store, a tile store in NY, you can find a wide variety of wood-style porcelain tiles in a range of colors and styles. Whether you're looking for a classic oak finish or a more modern and sleek look, they have something to suit every taste and style.
Some of the most popular styles of wood style porcelain tiles include: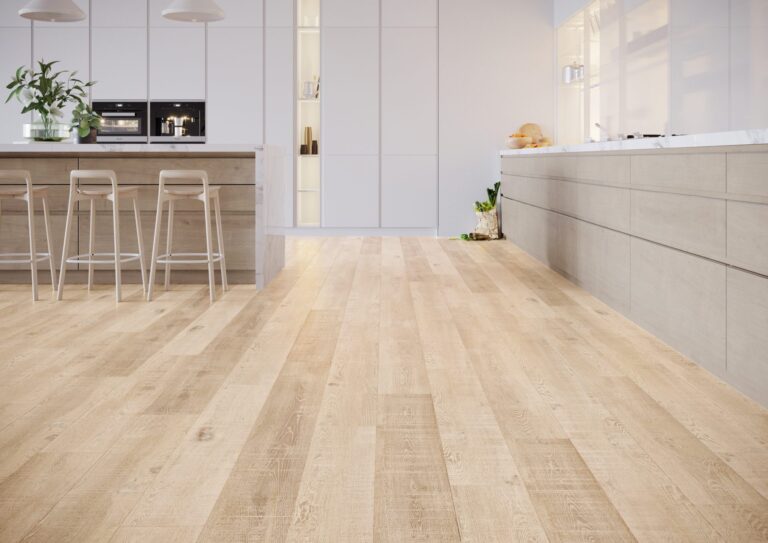 Oak is a classic choice for flooring, and wood-style porcelain tiles offer the same warm and inviting look without the high cost and maintenance requirements of real oak flooring.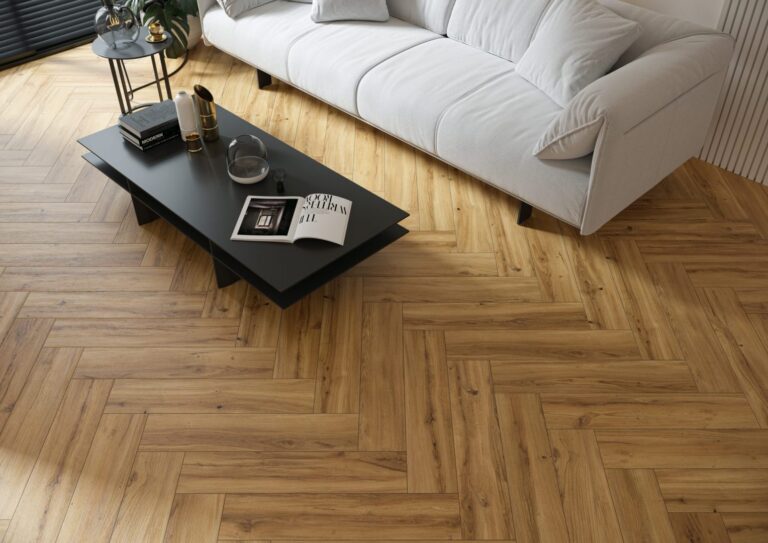 Maple is a lighter wood that can brighten up a room and make it feel more spacious. Wood-style porcelain tiles in a maple finish can help create a modern and minimalist look.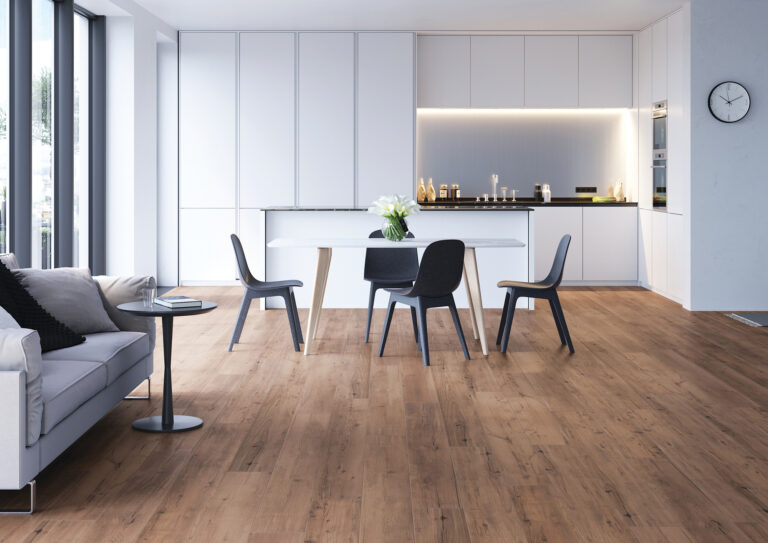 For a more luxurious look, consider wood-style porcelain tiles in a rich mahogany finish. These tiles can add warmth and elegance to any room in your home.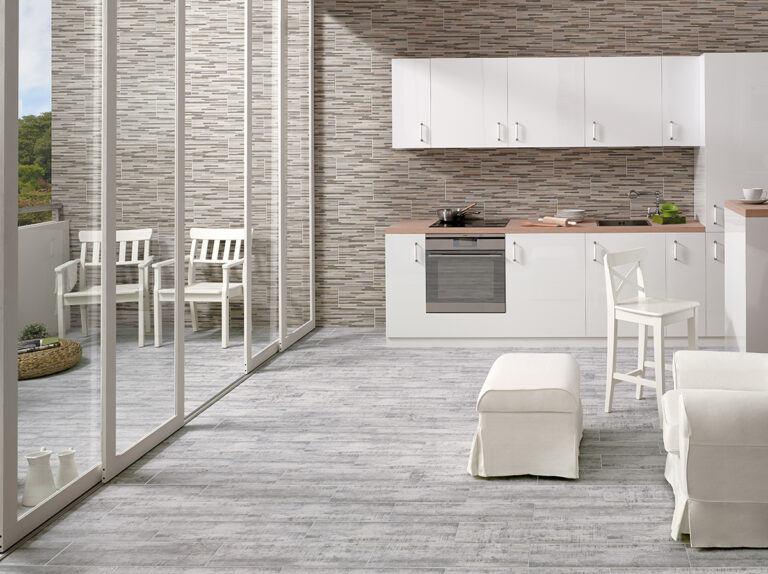 If you're looking for a rustic and unique look, consider wood-style porcelain tiles in a reclaimed wood finish. These tiles are designed to replicate the look of weathered and distressed wood, giving your home a cozy and inviting feel.
The grandeur of natural wood is undeniable, yet it carries numerous practical drawbacks. Its most prominent flaw lies in its susceptibility to moisture, which causes wood to expand and contract with humidity. This characteristic renders wood unsuitable for environments such as kitchens and bathrooms. In addition, natural wood floors tend to be cold and somewhat uncomfortable, posing an inconvenience to those who desire warmth and coziness underfoot.
Moreover, the installation requirements for natural wood floors are rather specific, often resulting in higher costs compared to other options, not to mention the already steep price of the wood itself. Fortunately, there are alternative options available that can deliver the same stunning finish as natural wood without the associated complications.
At Euro Tiles, we offer a diverse collection of contemporary European-StyleTtiles with wood-effect designs that cater to all tastes and preferences. These tiles present a practical and cost-effective alternative to natural wood flooring, as they are resistant to moisture and can provide warmth and comfort underfoot, in addition to being a visually appealing choice.
A Sustainable and Eco-Friendly Choice
In addition to their aesthetic and practical benefits, wood-style porcelain tiles are also a sustainable and eco-friendly choice. They are made from natural materials, and their long lifespan means that they won't need to be replaced as often as other flooring options. This can help reduce waste and minimize your environmental impact.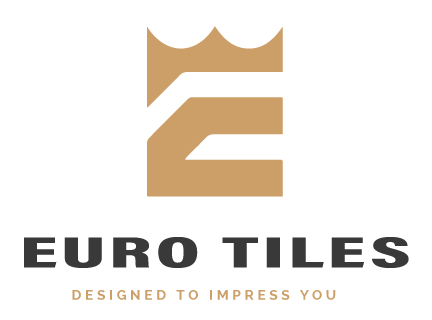 At Euro Tiles Store, our team of experts can help you find the perfect wood-style porcelain tiles to match your home decor.
Whether you're renovating your kitchen or upgrading your bathroom, they have the selection and expertise to guide you through the process. They can help you choose the right color and style of tile, as well as offer advice on installation and maintenance.
Our team of experts can help you choose the perfect tiles for your home and guide you through the installation process.
Transform Your Space with Large Format Tiles: The Ultimate Design Solution
Tiles have always been an essential part of the design world. They can completely transform a space by adding texture, color, and depth. Large format tiles have become increasingly popular in recent years due to their ability to create a sleek and modern look. Today, we will explore the benefits of large format tiles and how they can be used to transform your space into a stunning masterpiece.
What are Large Format Tiles?
Large format tiles are tiles that are larger than the traditional 12×12-inch tile. They can be rectangular, square, or even hexagonal in shape, and range in size from 12×24 inches to as large as 5×10 feet. These tiles are perfect for creating a seamless and uniform look.
Benefits of Large Format Tiles
There are many benefits to using large format tiles in your home or business. They can make a small room appear larger, create a modern and sleek design, and reduce the number of grout lines, which makes cleaning easier.
Types of Large Format Tiles
There are several types of large format tiles, including porcelain, ceramic, marble, and mosaic. Each type of tile has its own unique characteristics, and the type of tile you choose will depend on your personal style and the look you want to achieve.
Porcelain Large Format Tiles
Ceramic Large Format Tiles
Porcelain tiles are made from a dense and durable material that is perfect for high-traffic areas. They are resistant to scratches, stains, and moisture, making them an ideal choice for bathrooms and kitchens.
Ceramic tiles are less dense than porcelain tiles, but still provide durability and versatility. They are a great choice for walls, backsplashes, and floors.
Marble Large Format Tiles
Mosaic Large Format Tiles
Marble tiles are luxurious and elegant. They come in a variety of colors and patterns and are perfect for creating a high-end look.
Mosaic tiles are small tiles that are mounted on a mesh backing. They can be used to create intricate designs and patterns, and are perfect for backsplashes and accent walls.
When it comes to transforming your space, large format tiles can provide a stunning solution that is both beautiful and practical. Here are a few reasons why you should consider buying large format tiles:
Using Large Format Tiles in Bathrooms
Large format tiles can completely transform a bathroom by creating a modern and luxurious look. They can be used on walls, floors, and even in the shower to create a seamless and uniform design.
Size Matters: Large format tiles come in a variety of sizes, typically ranging from 16×32 inches to 24×48 inches or even larger. Their size makes them ideal for creating a seamless look in your space, with fewer grout lines and a more expansive feel.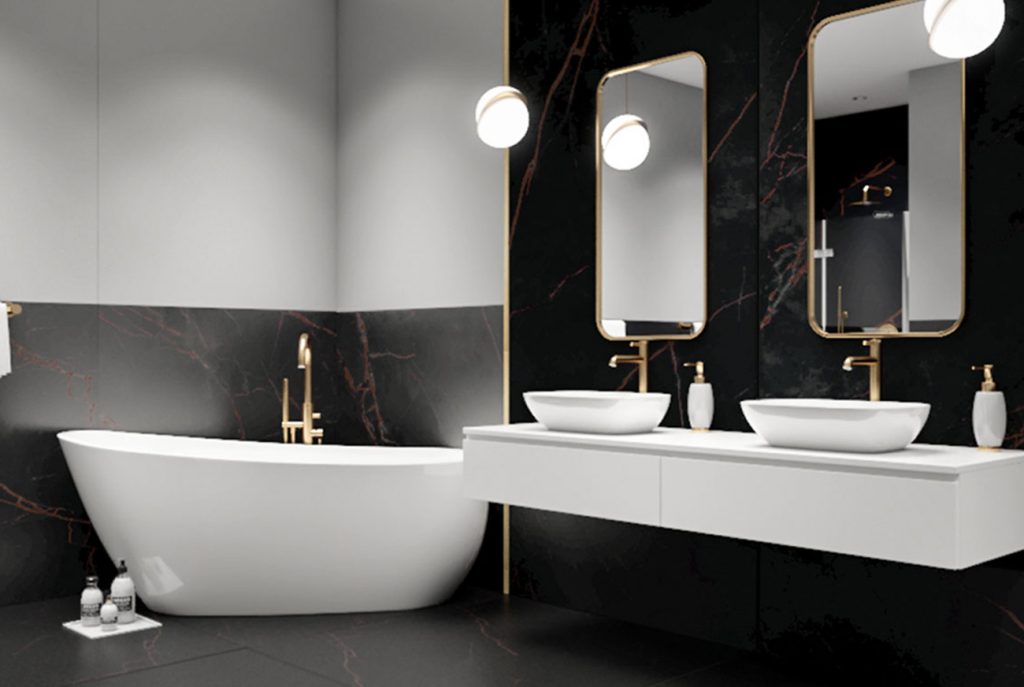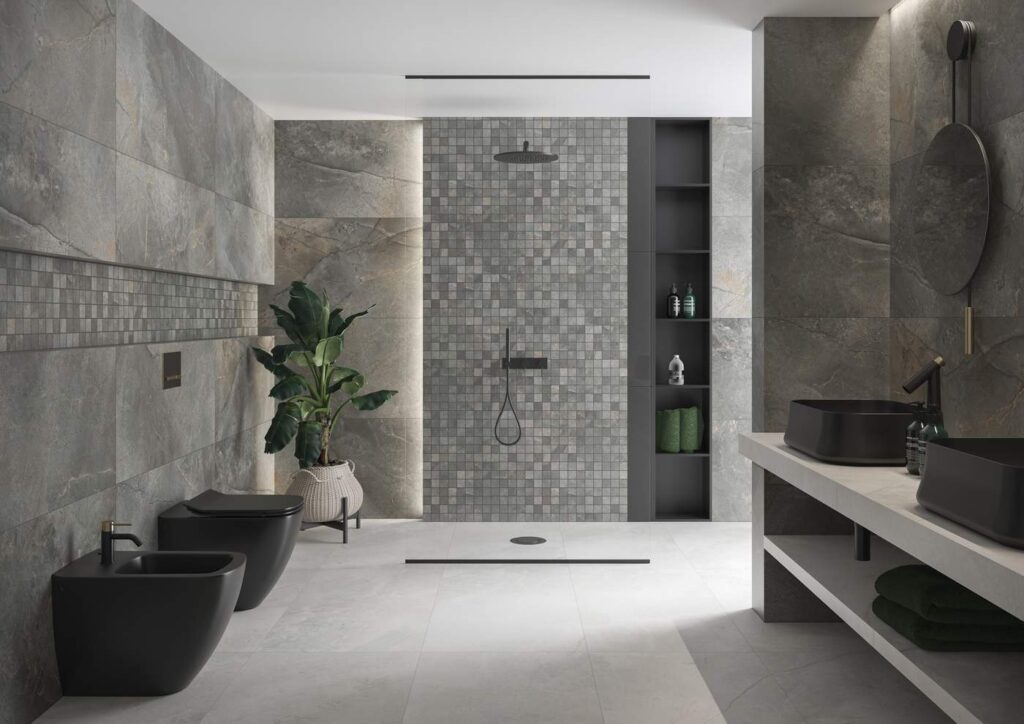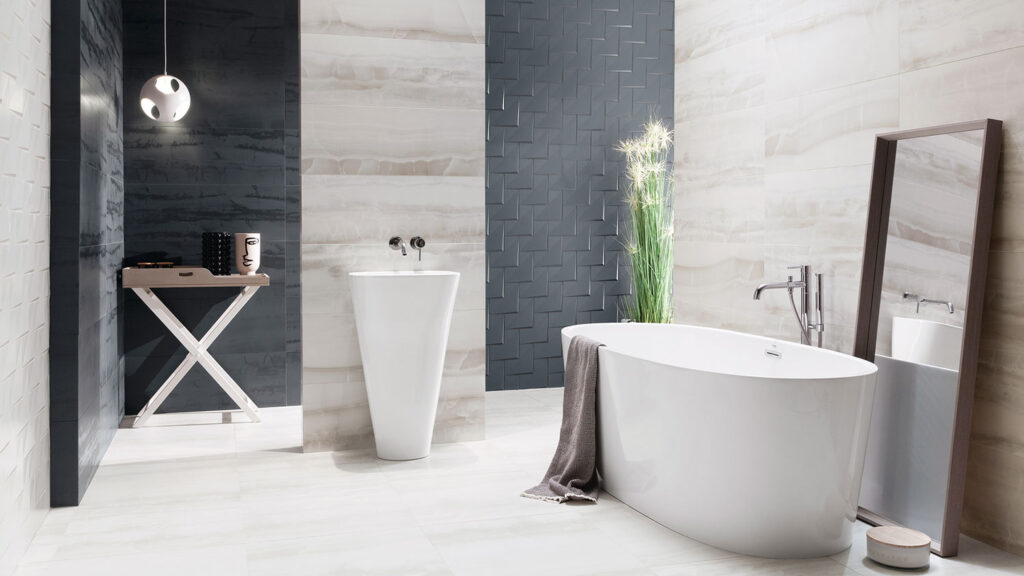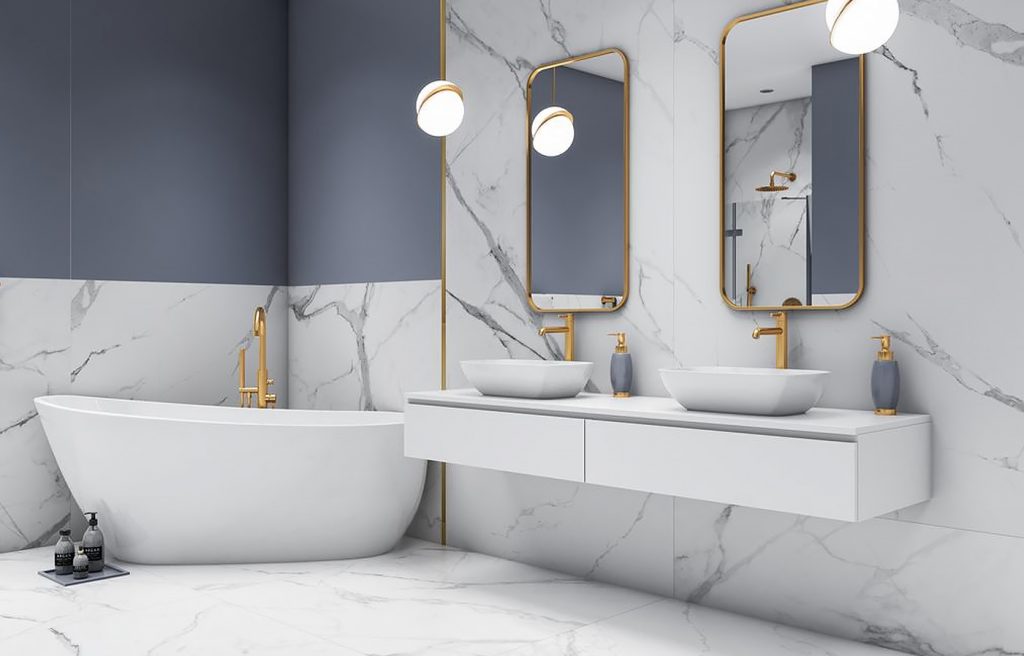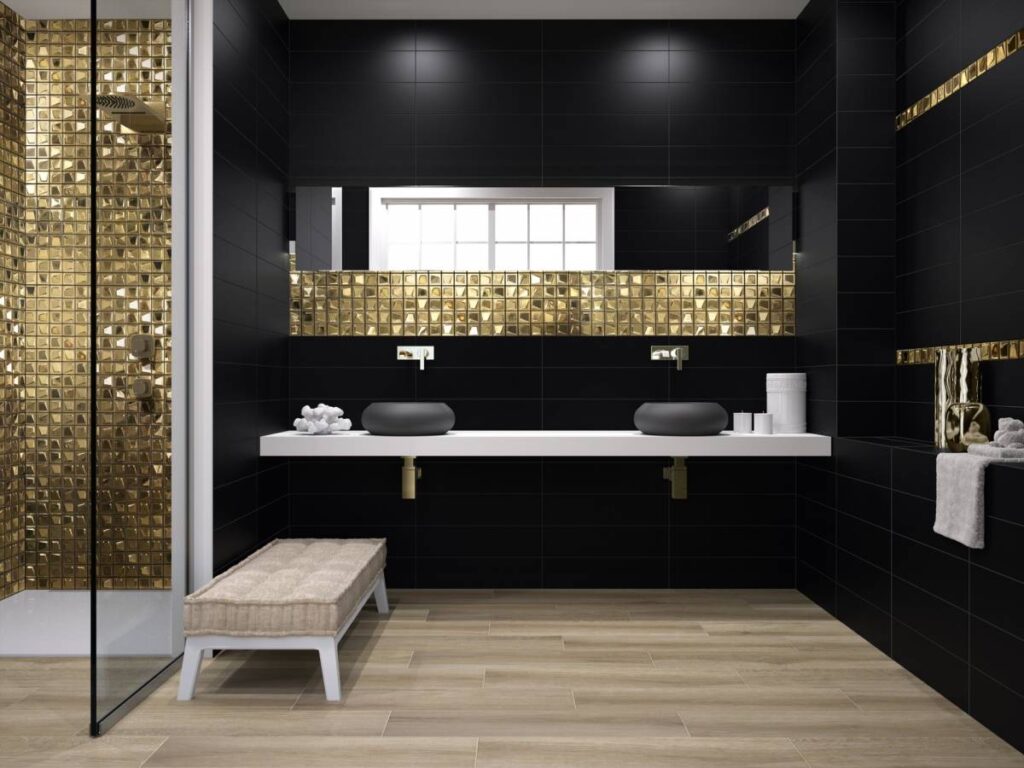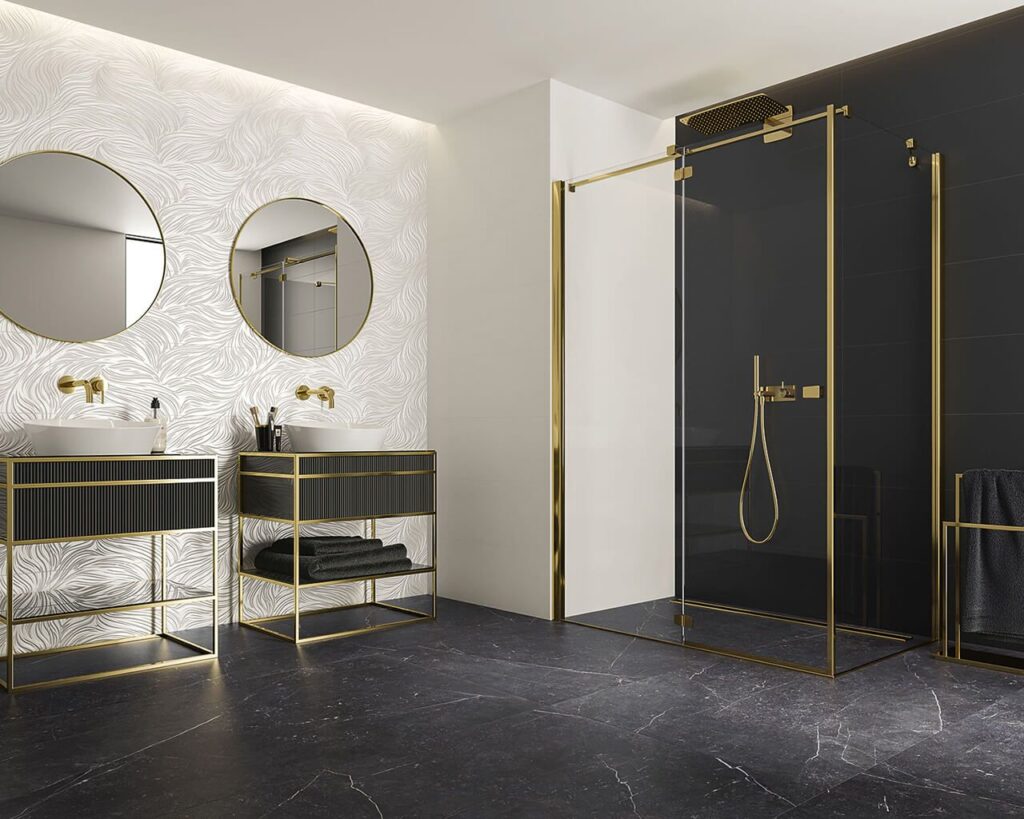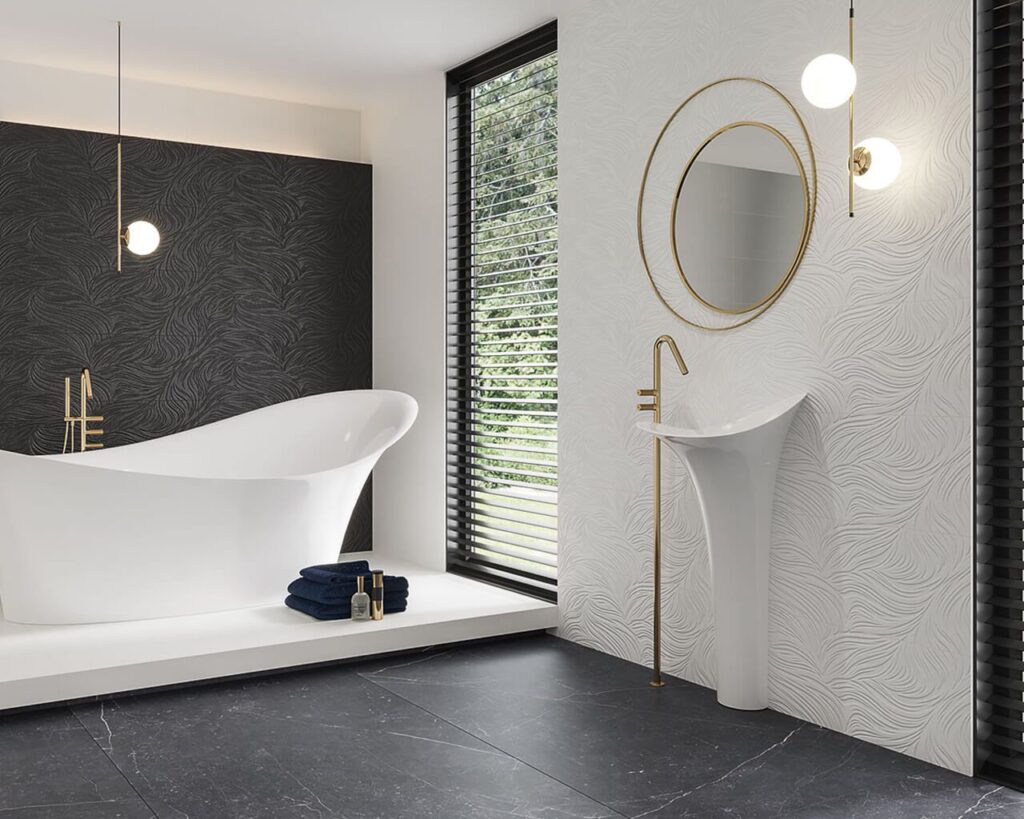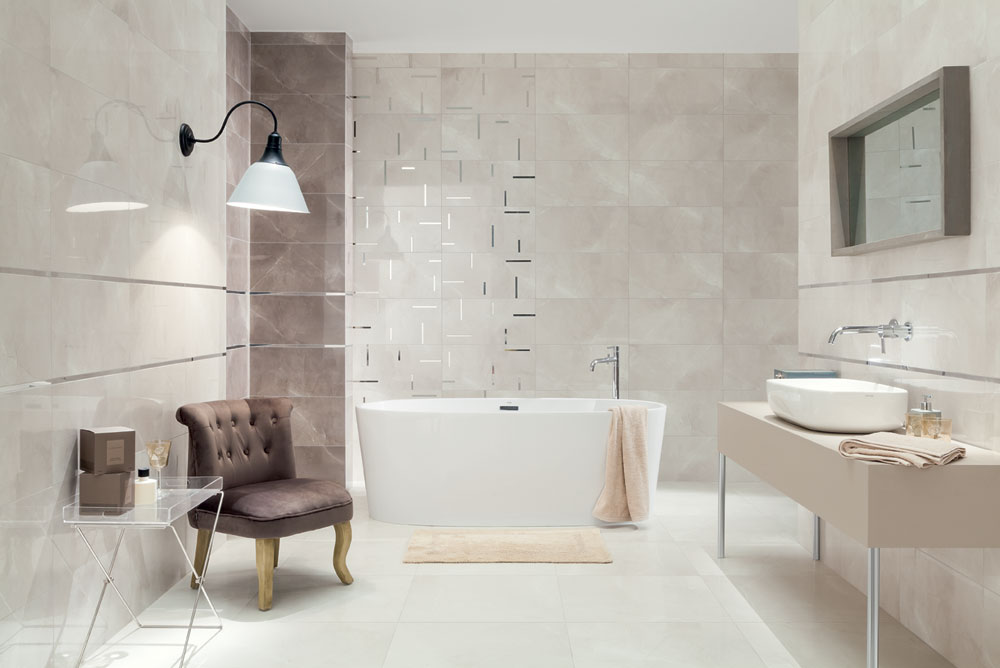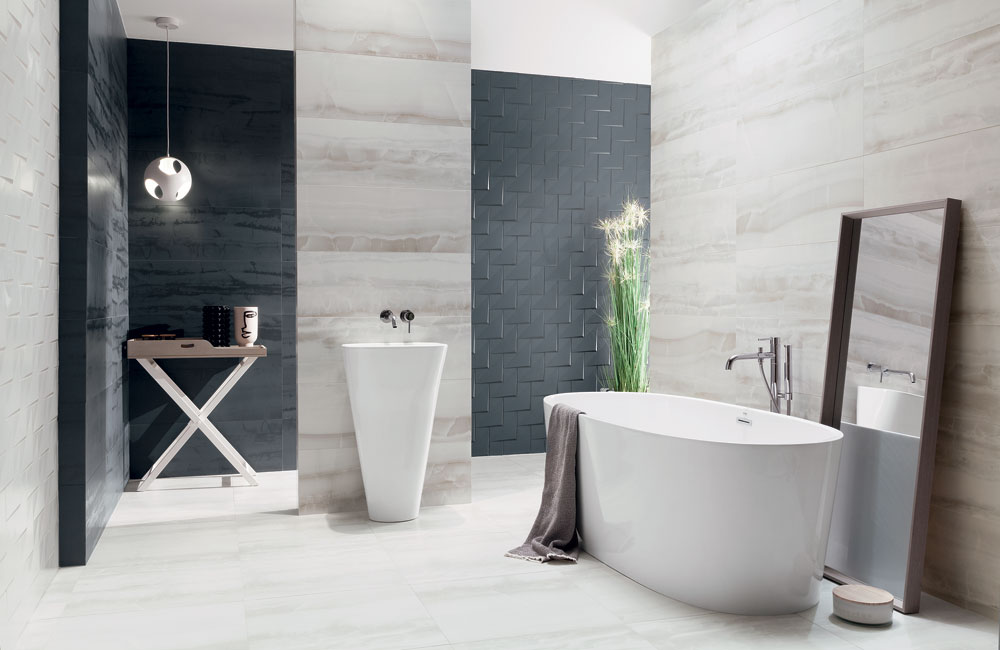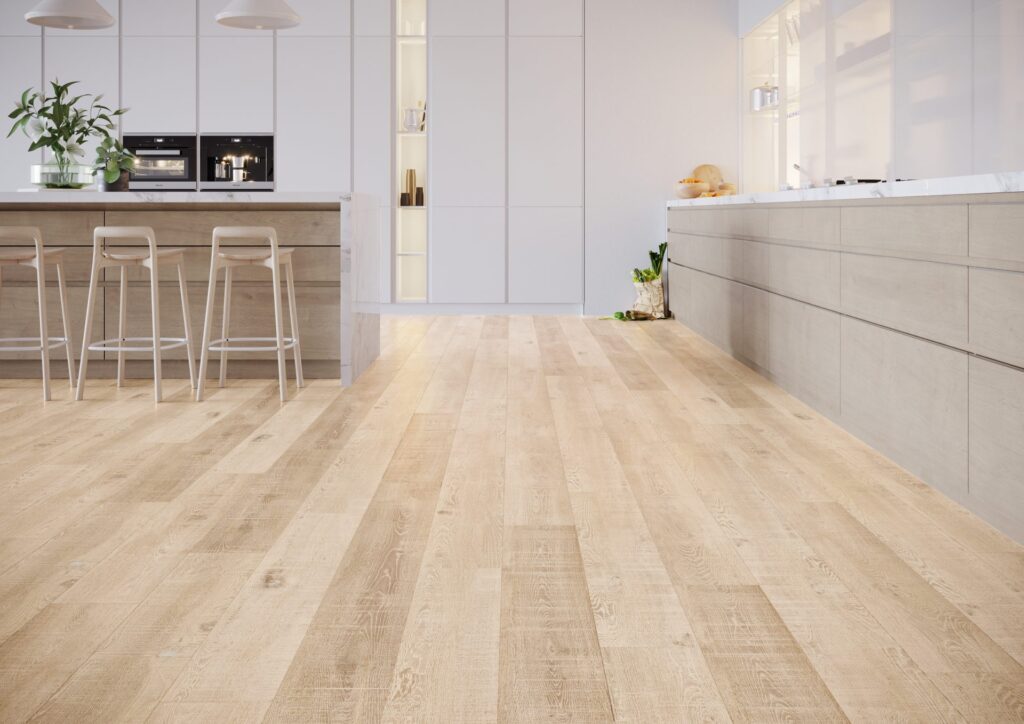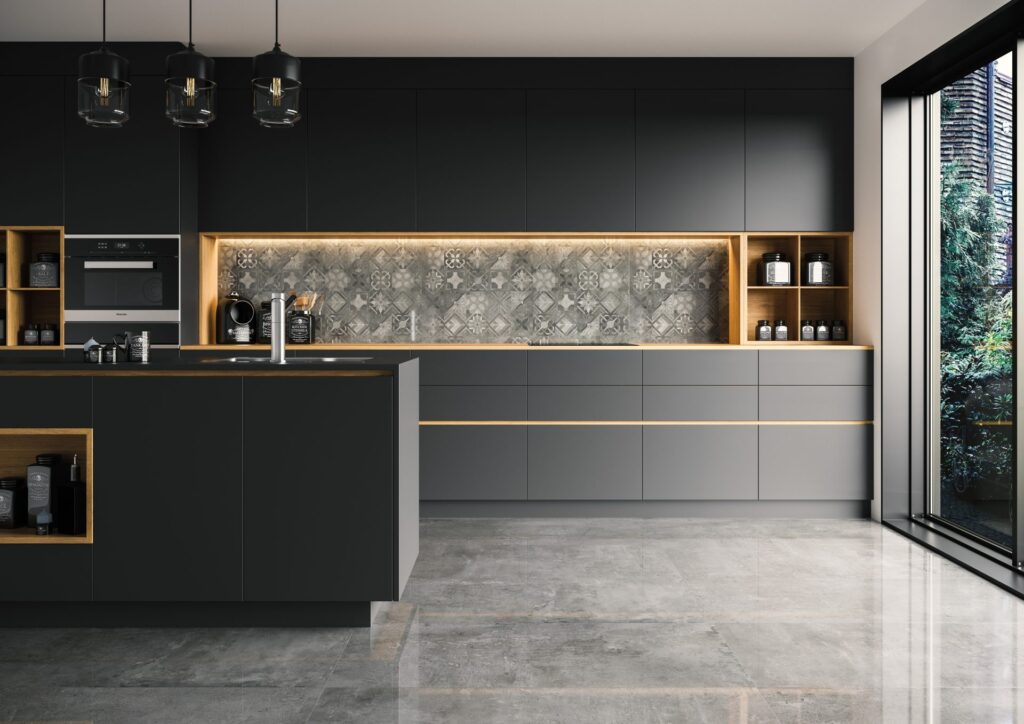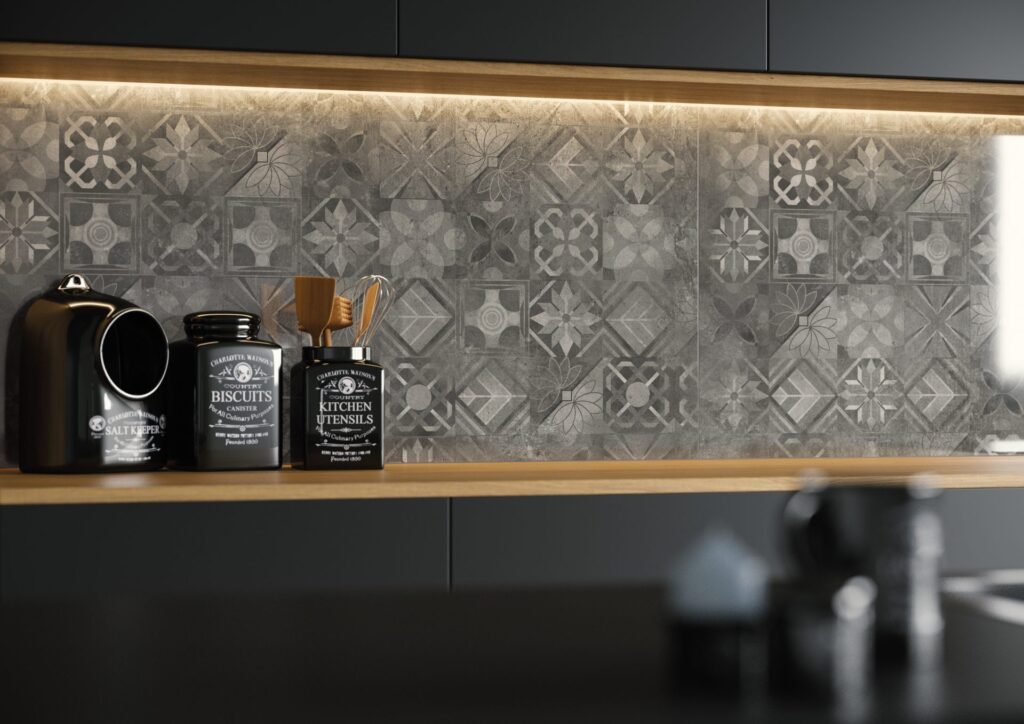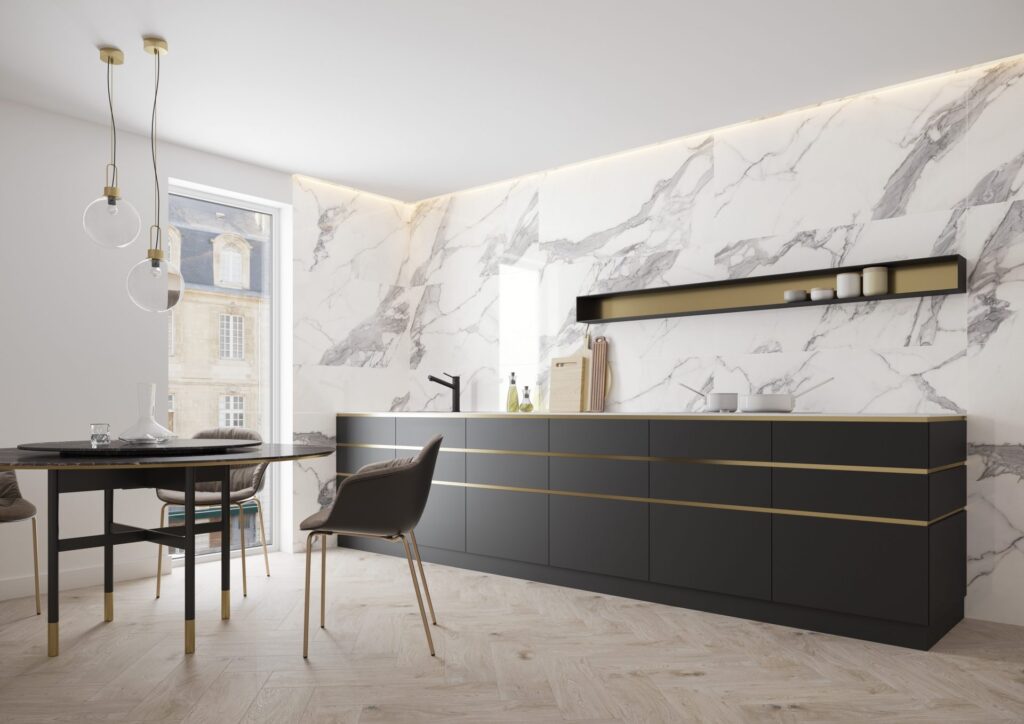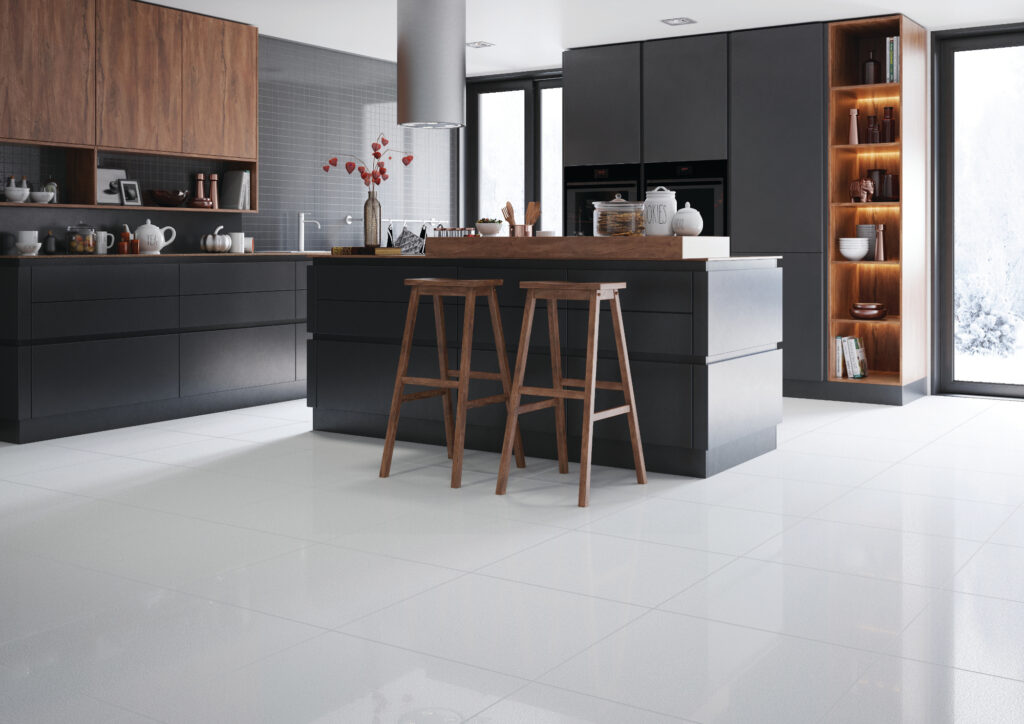 Using Large Format Tiles in Kitchens
Large format tiles are also a great choice for kitchens. They can be used on backsplashes, floors, and even countertops to create a sleek and modern design.
Variety of Designs: Large format tiles are available in a wide range of designs, from sleek and modern to classic and traditional. You can choose from a range of finishes, including polished, matte, textured, and more, to create the look and feel that best suits your personal style.
Durability: Large format tiles are highly durable and resistant to wear and tear, making them ideal for high-traffic areas such as kitchens, bathrooms, and living spaces.
Easy to Clean: The larger size of the tiles means fewer grout lines, which translates to less time spent cleaning. They are easy to maintain and require little upkeep, making them a practical choice for busy households.
Versatility: Large format tiles can be used on both floors and walls, and can be incorporated into a variety of design schemes. They are a versatile option that can work in a variety of spaces and styles.
Installing Large Format Tiles
Installing large format tiles requires a bit more skill than installing traditional tiles. It is important to make sure that the substrate is level and properly prepared before installation. It is also recommended to use a professional installer to ensure a flawless finish.
.
In conclusion, large format tiles are the ultimate design solution for transforming any space. They come in a variety of types and can be used in bathrooms, kitchens, and even as accent walls. Whether you are looking for a sleek and modern design or a luxurious and elegant look, large format tiles can help you achieve your design goals. Visit Euro Tile Store to explore our vast selection of large format tiles and transform your space today.