If you're all about turning your cooking space into both a beauty and practicality, you're in for a real treat. Imagine a kitchen that's not just a place to prepare meals, but a canvas where your culinary creativity comes to life. That's where porcelain tile designs come in, and we're here to guide you through the wonder they can bring to your kitchen.
Porcelain tiles are like pieces of art that you get to walk on and use every day. They're not just about functionality; they're about transforming your kitchen into a space that inspires and elevates your daily cooking routine. Imagine a morning where you step into your kitchen, greeted by a backsplash that's a masterpiece in itself – it's not just protecting your walls; it's setting the stage for a day of culinary exploration.
These tiles aren't just ordinary; they're extraordinary. They're a statement of your style, a reflection of your taste, and a testament to your desire for a kitchen that's more than ordinary. With Euro Tiles, you're not just choosing tiles; you're choosing to infuse your kitchen with character, and to create a space that resonates with you on a deeper level.
So, get ready to explore the possibilities and discover how Euro Tiles can help you cook in style like never before. Your kitchen is about to become more than just a place to cook – it's about to a testament to your appreciation for aesthetics, and a space where every meal becomes an experience to cherish. Get ready to dive into the magic of porcelain tile designs and transform your kitchen into a haven of both beauty and function.
Aesthetic Marvels: The Versatility of Porcelain Tile Designs
Let's talk aesthetics – the visual symphony that porcelain tile designs can bring to your kitchen. Euro Tiles isn't just about tiles; we're about creating an atmosphere that resonates with your style and brings your kitchen to life. Imagine a countertop that's not just a surface; it's a statement. Our porcelain tiles come in an array of designs, patterns, and colors that can complement any kitchen theme.
Porcelain tiles can also seamlessly adapt to any design vision you have in mind, giving you the creative freedom to curate a kitchen that's uniquely yours. Want a backsplash that's a pop of color amidst neutral tones? How about a countertop that mimics the luxurious look of marble without the high maintenance? We've got that. There are no limits when it comes to Euro Tiles. We encourage you to play with possibilities and bring your dream kitchen to life.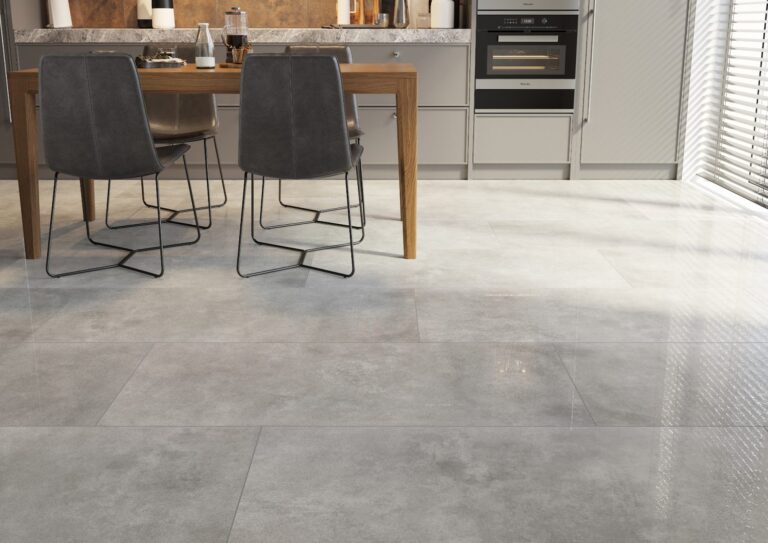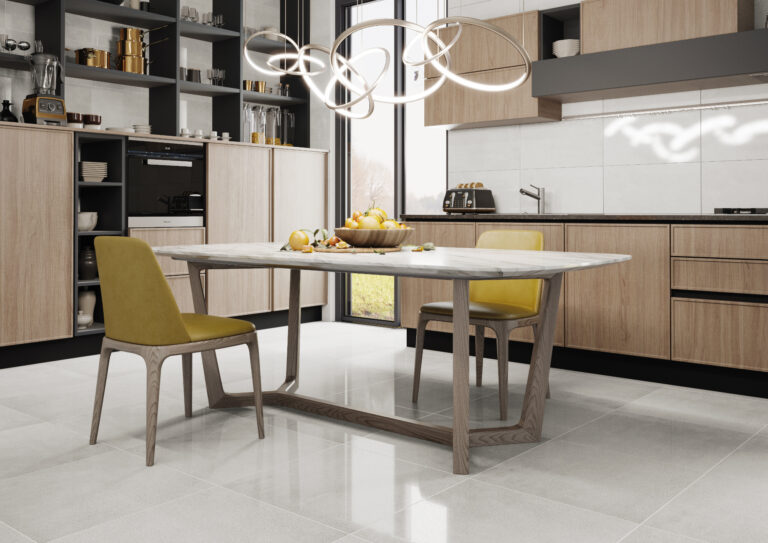 But it's not just about looks; it's about durability too. The hustle and bustle of a busy kitchen is no match for our porcelain tiles. From spills to heat to everyday wear and tear, these tiles are designed to stand the test of time without compromising on style. You're not just getting a beautiful kitchen; you're getting a functional space that can handle the demands of your culinary adventures.
So, whether you're dreaming of a sleek modern kitchen with clean lines or a cozy traditional space with old-timey charm, Euro Tiles' porcelain tile designs can make it a reality. Get ready to transform your kitchen into an aesthetic marvel that's a true reflection of you – your style, your taste, and your love for both beauty and functionality. With our tiles, your kitchen is about to become a work of art that you can cook, create, and savor in.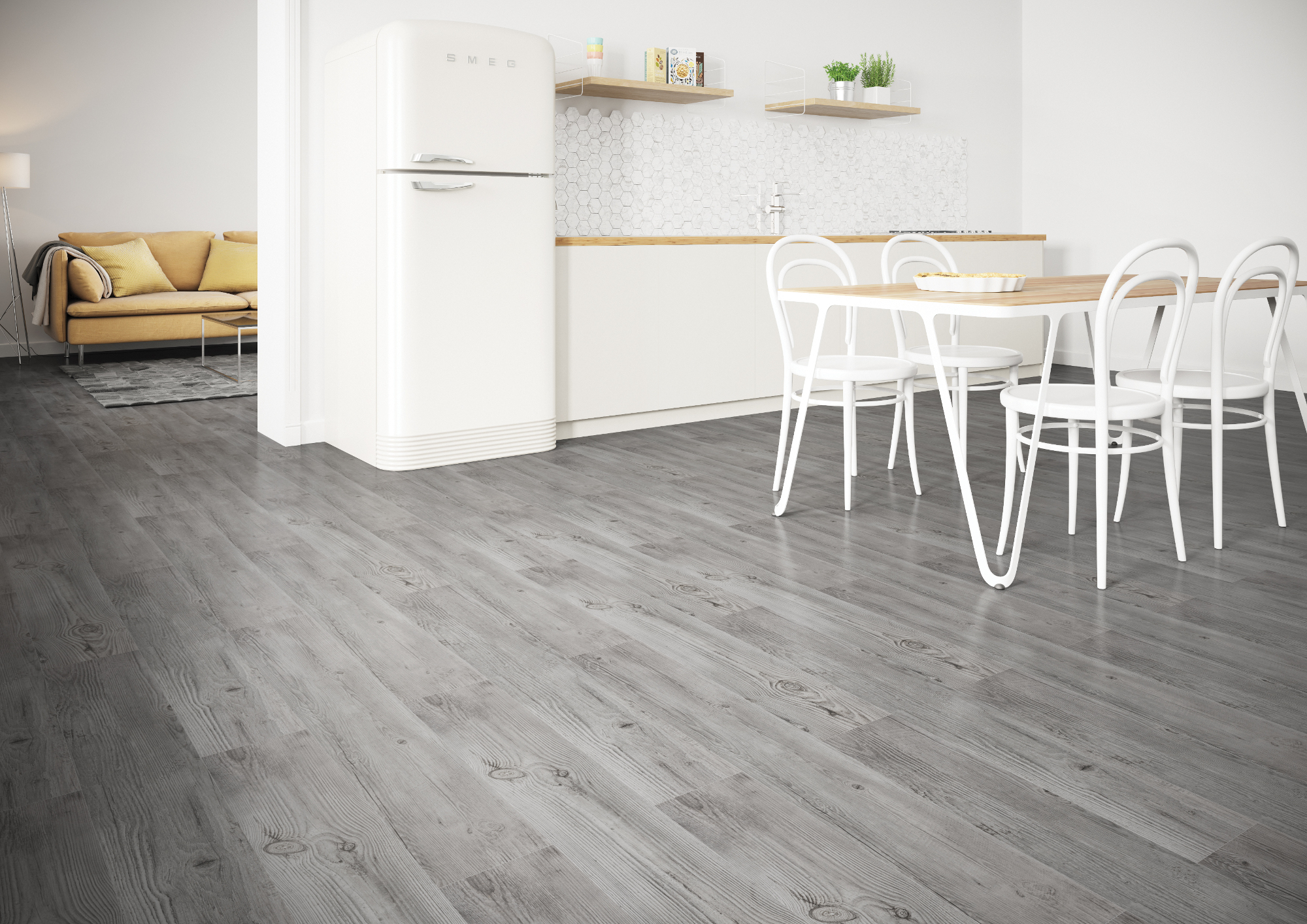 Versatility Redefined: Creative Applications of Porcelain Tiles
When it comes to kitchen design, versatility is the name of the game, and Euro Tiles' porcelain tile designs are the MVPs of flexibility. These tiles aren't confined to just one role; they play multiple parts, enhancing various aspects of your kitchen with their adaptability.
Let's start with the backsplash – not only does it protect your walls from cooking messes, but it's also a canvas for creativity. Our porcelain tiles come in a range of sizes, shapes, and patterns, allowing you to mix and match to your heart's content. Create a captivating mosaic, form captivating patterns, or go for a sleek subway tile arrangement – the possibilities are limited only by your imagination.
But versatility doesn't end at the walls; it extends to your countertops too. While granite and marble are classic choices, our marble-style porcelain tiles offer the same luxurious look without the maintenance concerns. You can carry these tiles throughout your kitchen, creating a cohesive and visually appealing room.
And let's not forget the floor – the unsung hero of your kitchen. Our wood-style porcelain tiles add warmth and coziness while delivering durability that real hardwood floors struggle to match. The best part? These tiles can be carried throughout your kitchen, creating a cohesive and visually appealing space.